Roman Shades
The Model 9300 Series Lift System is designed to lift Roman shades, Austrian pouffes, balloon shades, woven woods, and other shade lifting applications.

The standard Model 9320/9330/9340 system consists of a tubular motor concealed inside a 2 inch aluminum tube. The motor revolves the tube, clockwise and counterclockwise, by pivoting on end brackets. Easy to set limit switches allow for automatic stopping at top and bottom positions. The maximum rotations of the motor is 41 revolutions (26 feet of lifting).

The Model 9314 is essentially a compact version of the Model 9320. Rather than the 2" diameter tube used in the Model 9320, the Model 9314 uses a 1.5" (40 mm) aluminum tube. When using with Roman style shades, the minimum size for the shade dust board is 1" x 3" (true). Maximum width is 96". Center supports are not available.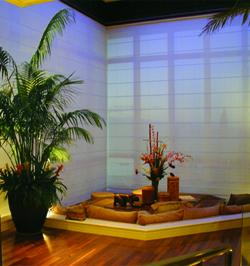 Models 9314, 9310, 9320 are available in Sonesse (Ultra Quiet) HW and RTS versions.