Cellular shades
Specifically designed to lift cellular and pleated shades, the Model 9600 features a slim head rail; with the motor, all mechanical components, and even the optional wireless remote control electronics concealed within.

Conversion to a motorized system is made by attaching the standard shade head rail to the bottom of the Model 9600 head rail, and replacing the shade cords with a flat 2.6mm (1/10") ribbon tape.

With the Model 9600, even the very largest shades available can be effortlessly operated at the touch of a button. The system includes everything needed to motorize your COM shade, including conversion of your shade at our factory. When providing shades to SM Automatic for motorization, it is extremely important to have the shades fabricated according to the specification requirements provided.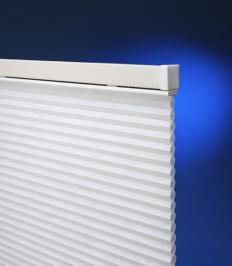 Standard Duette® head rails are required. Easy-Rise®, Ultra-Glide®, and Easy-Glide® head rails are not compatible with the Model 9600. For approximate stacking dimensions, add 2.5" to shade manufacturer's manual shade stacking guide. The absolute minimum system width is 20" for hardwired and 26" for wireless.